A BIG HUSKIE Welcome to Koryn Walden! She will be providing BES & BHS/MS with 31n services in the school to address the mental health needs of children and their families. As a 31n therapist, she will be available to support students who are struggling with anxiety, depression, grief and loss, and trauma. These services can be provided in school and during the summertime. 31n therapy sessions can be done individually or in groups to also include family members when necessary. Here is a link to her welcome letter and a referral form for families who want to utilize her services. Please fill it out and turn it into your child's building office.
https://docs.google.com/.../1HEFZbBeTv2v6T2Gj3V4W.../edit
... #HuskiePride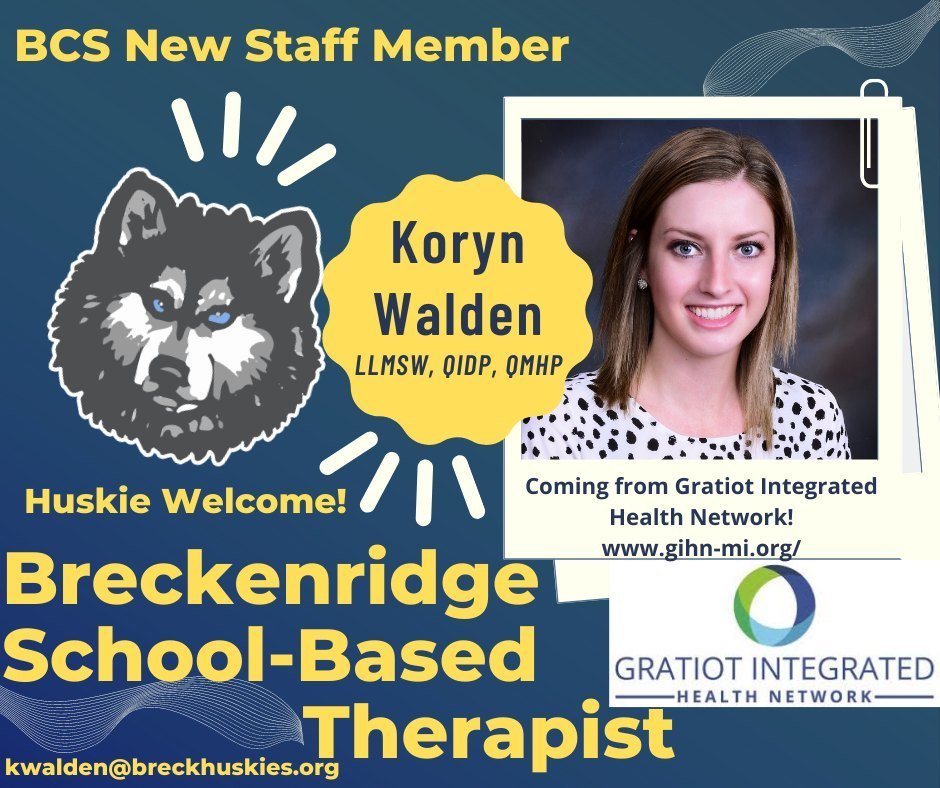 The end of August is quickly approaching and the start of the 2022-2023 school year is coming up. Bond work continues and like most construction, it is taking longer than expected. However, we are planning to be at a point where we can safely allow staff and students back to the building and start school on time on August 29th. We're excited to welcome staff and students back for the start of a great school year.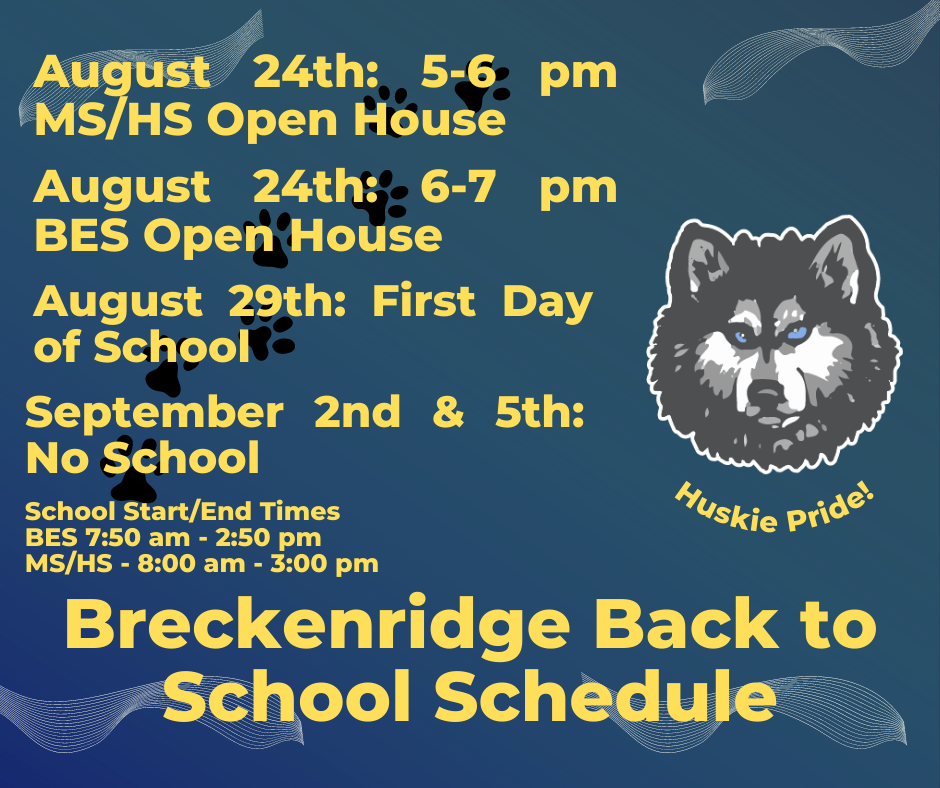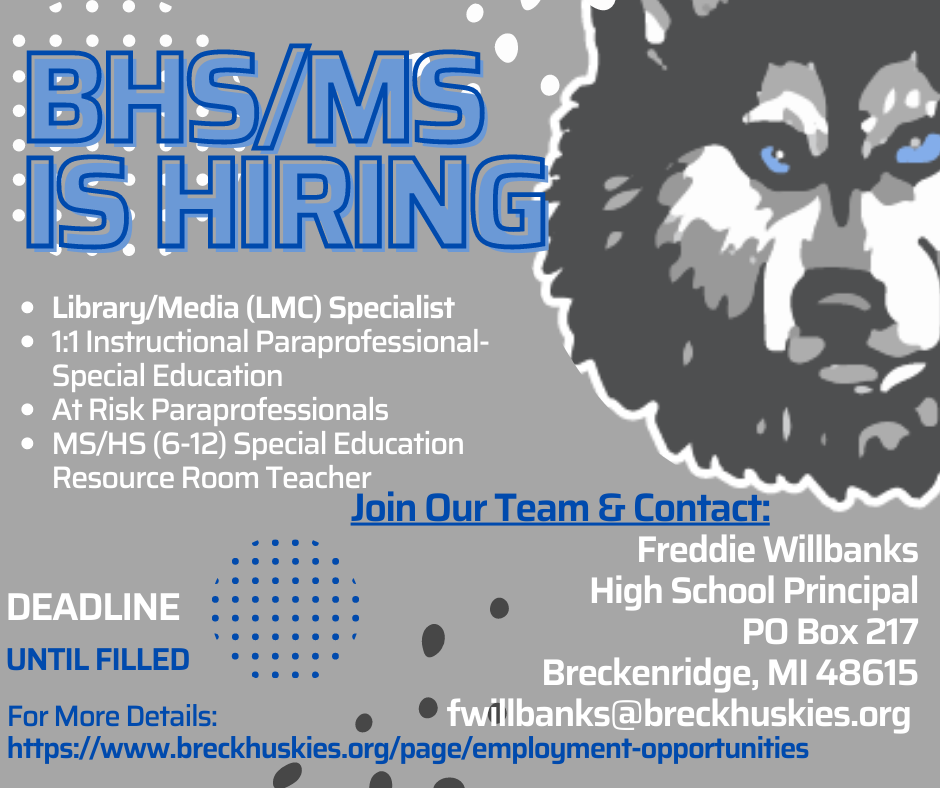 We are excited to have Mr. Kurt Peters returning for another year as our Behavioral Building Specialist. Mr. Peters helps to monitor and assist with our Responsibility Thinking Center (RTC) processes in conjunction with our Dean of Students. Mr. Peters works closely with students to make good choices and coaches them on how to respond when they make poor choices. RTC allows us to use restorative practices to consider all stakeholders and not just address the issue at the surface but take a deeper look into holistically addressing the feelings and voices of all parties involved when conflicts arise. If students or offenders buy in and channel the human condition, they can make longer-lasting positive behavioral choices. Our classrooms have behavioral management plans designed to maximize learning for all students, and choosing RTC would be the last resort as education doesn't take place in an RTC room. Mr. Peters assists the Dean of Students in facilitating and guiding the mediation involved in RTC discussions based on the feelings of all stakeholders. This work is essential to minimizing habitual offenders and leading to an increase in our school climate. BHS is lucky to have Mr. Peters! #HuskiePride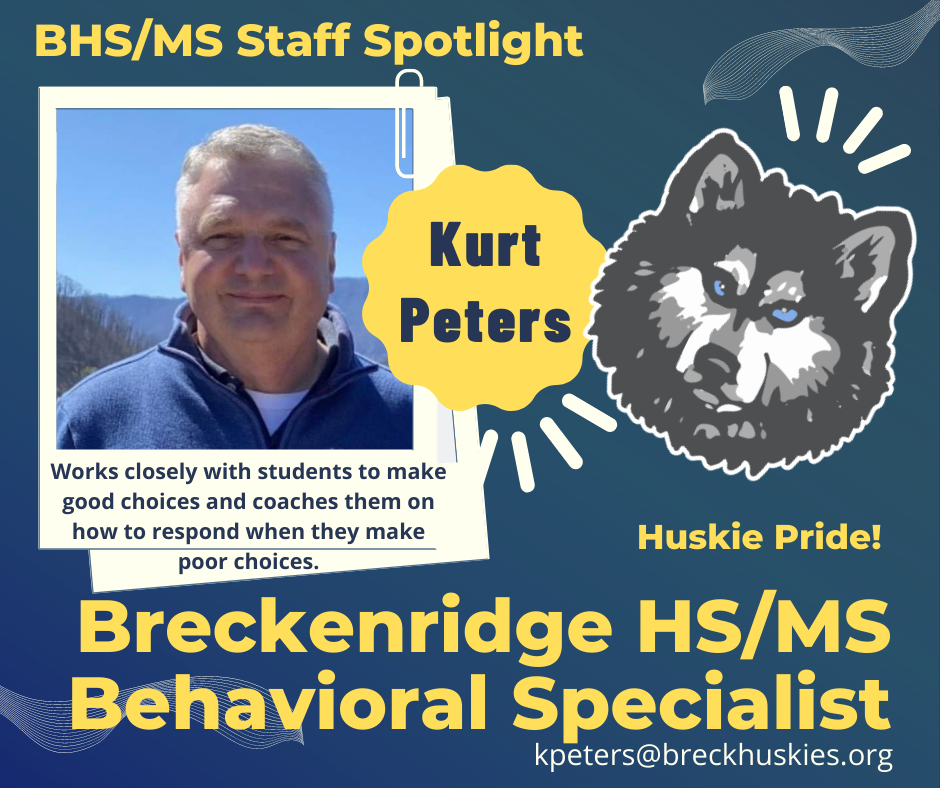 A BIG HUSKIE Welcome to BHS/MS returning Academic Specialist Mrs. Kim Ostrander! She is returning for another year as our building Academic Specialist, who provides Tier 3 and Tier 2 support for our students. She will help students stay on track by monitoring grades and providing academic support for students. She will assess our students' needs, devise a plan, and at times push into classrooms or pull students out of class to help them. Mrs. Ostrander will also work closely with our curriculum, student assessment, and academic data analysis, assist the administration, and communicate with parents to ensure student learning and academic success. #HuskiePride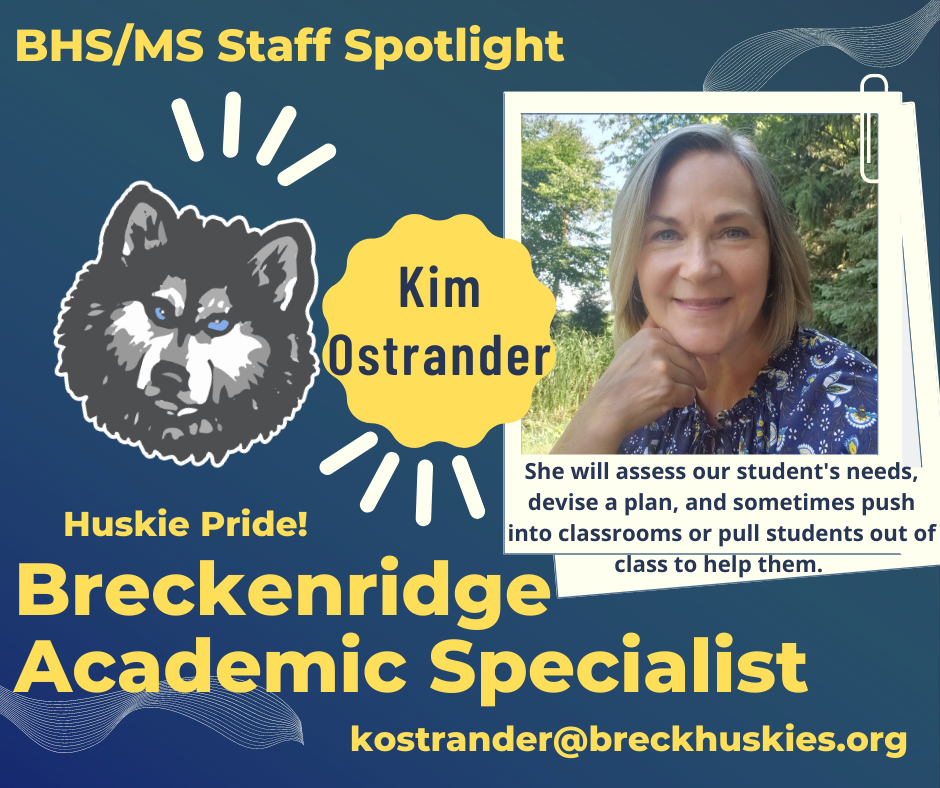 A BIG HUSKIE Welcome to BHS/MS New Staff Member Sara Nachazel. Sara is a recent graduate of Michigan State University. She is originally from the village of Ellsworth, a small town a stone's throw from the shore of Lake Michigan. Sara says, "with more boat launches than stores, what we lacked in convenience we made up for in recreational fun and scenic beauty." She interned, and student taught at Ogemaw Heights and Waldron. There she developed a curriculum covering topics from animal systems to cultural competent management practices and plant systems to leadership development. She aims to create an engaged classroom that allows different viewpoints to be shared and explored. We look forward to working with Sara and supporting her as she transitions into our district. #HuskiePride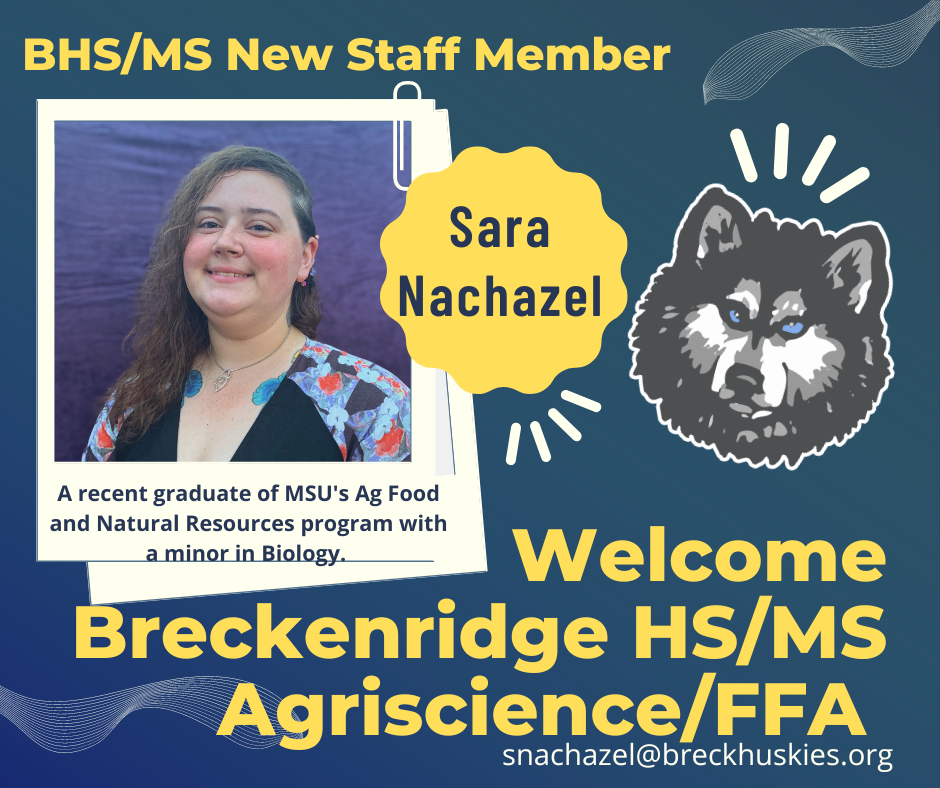 This week is a culmination of hard work and dedication for many of our BCS students as they participate at the Gratiot County Fair. Best of luck, make memories and new friends, and have fun. Go Huskies!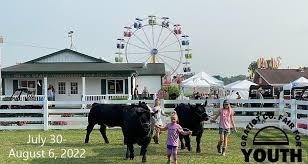 If you haven't downloaded the Breckenridge Community Schools app, it's a great tool to keep up with everything going on at school. It pulls together social media feeds, school and sports calendars, and (once school starts) the daily breakfast and lunch menus, as well as a lot of other school information. It can be downloaded from both the Apple and Google Play app stores. Just search Breckenridge Community Schools in you app store.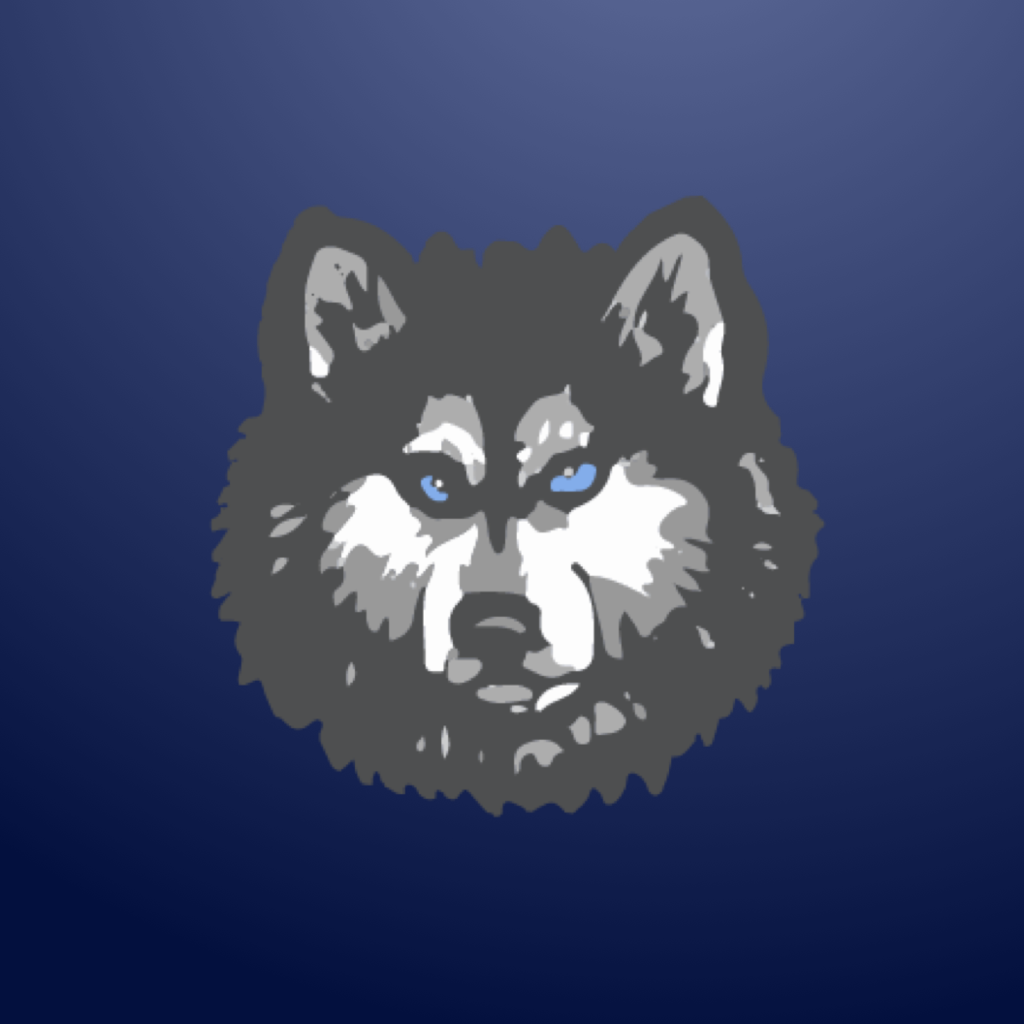 Breckenridge HS/MS is hiring! Come join a great group of educators committed to educational excellence. POSITIONS AVAILABLE: One MS/HS (6-12) Special Education Resource Room Teacher Five Paraprofessional Positions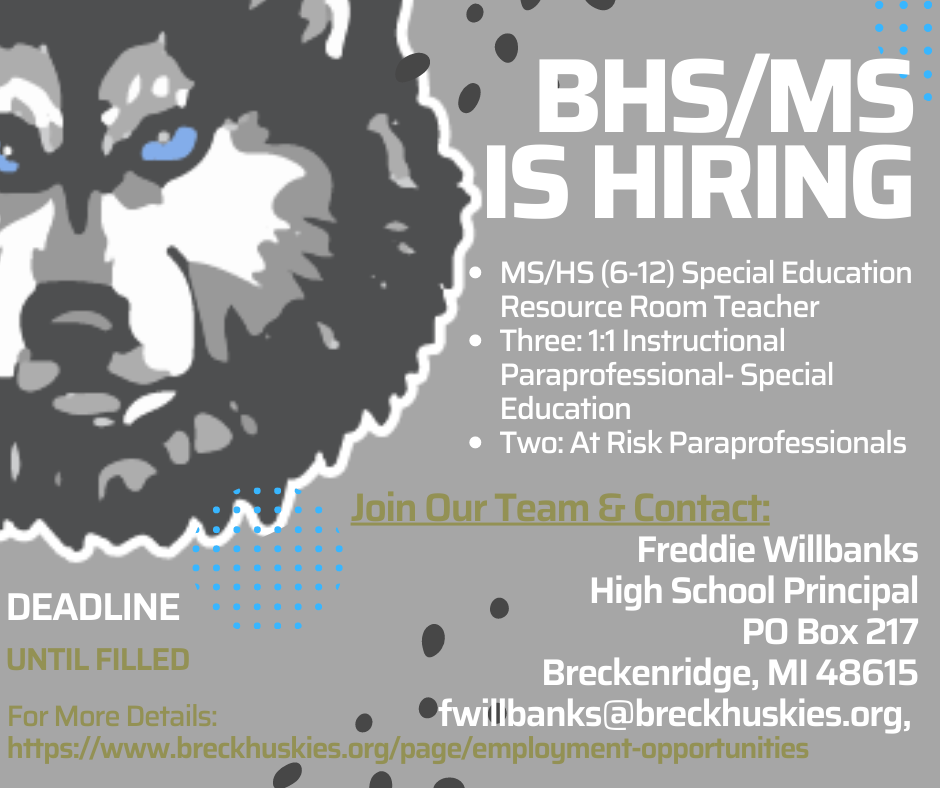 A BIG HUSKIE Welcome to BHS New Staff Member, Mrs. Ashleigh Shaw. Mrs. Shaw currently lives in a nearby village and has been a High School English Teacher for Great Lakes Learning Academy in Lansing. She has experience teaching 9th -11th grade English, including honors courses and a communications course via an online setting. Ashleigh is a well-organized person with a passion for learning and giving students choice. She has experience proctoring the M-STEP, PSAT, Work keys, and SAT and administering the NWEA tests. We look forward to working with Ashleigh and supporting her as she transitions into our district. #HuskiePride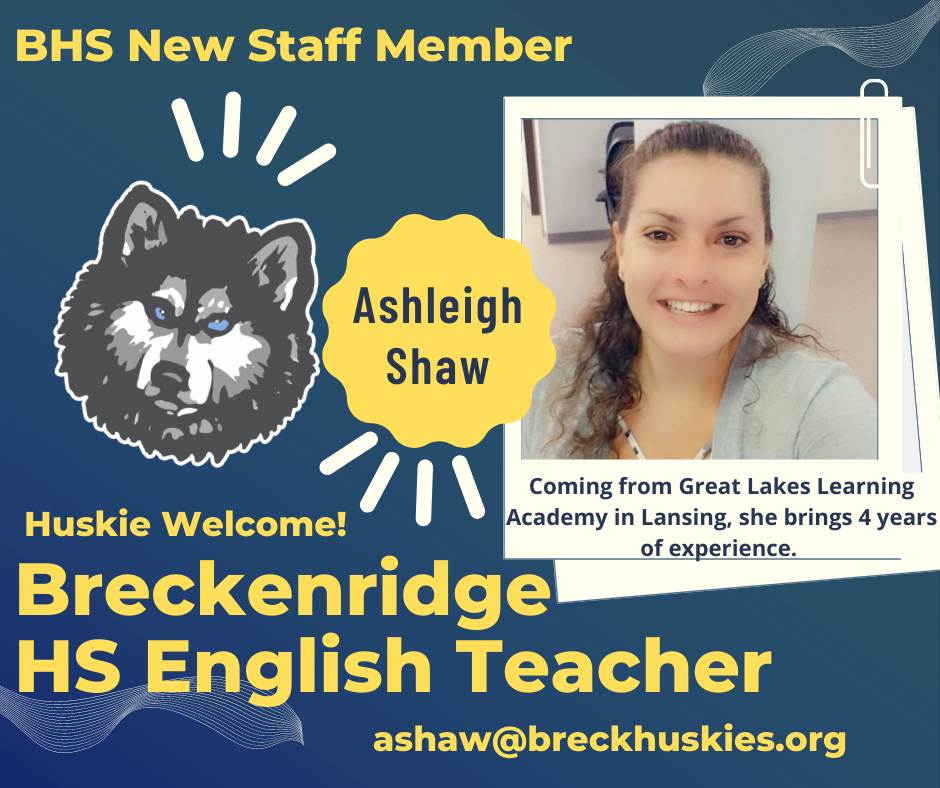 Let's show some #HuskiePride and appreciation for Mrs. Wolfgang and the Gratiot County Community Foundation for providing the STEM resources to push BCS's mission to "educate, support, and inspire all students to achieve personal excellence and success." Click on the photo below to see more.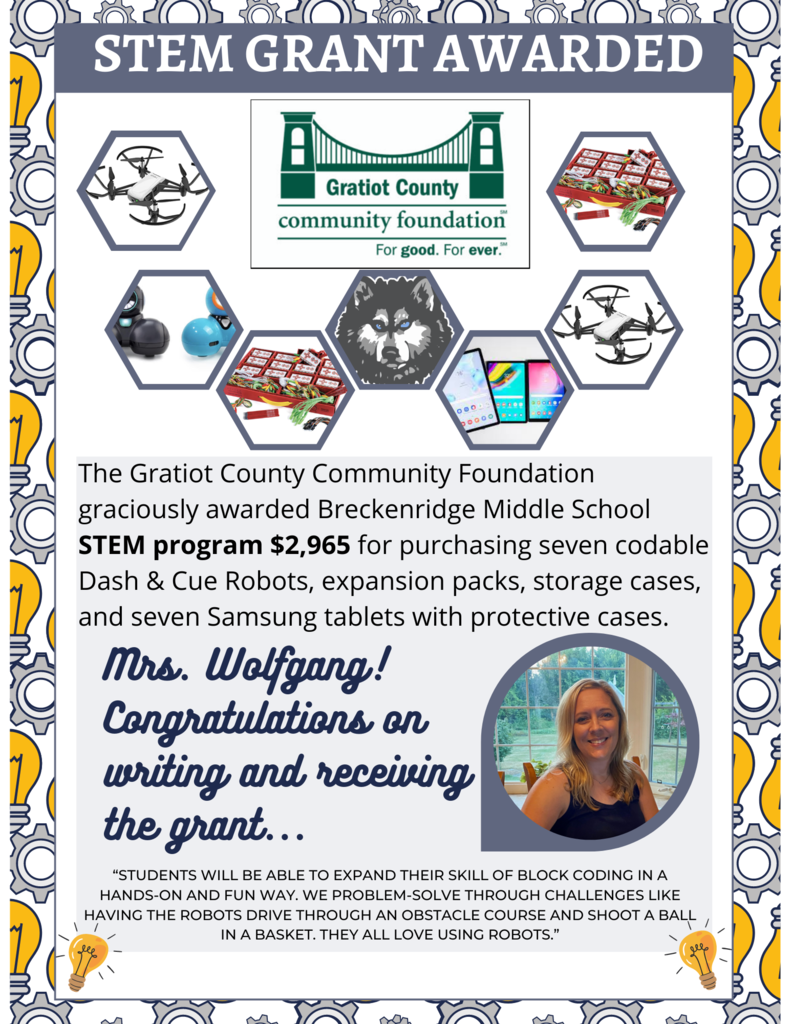 Summer Bond Update- Happy Friday, Huskies! I hope you are all having a great summer. Summer bond work is moving right along as most of the demolition is completed and areas are being put back together. The track asphalt and the majority of the concrete has been laid down. The track surface will be sprayed and painted in the coming weeks. Both HS courtyards are completed and will be having picnic tables installed. At the elementary, new epoxy flooring is being installed in the hallways and as well as new lockers in the new addition.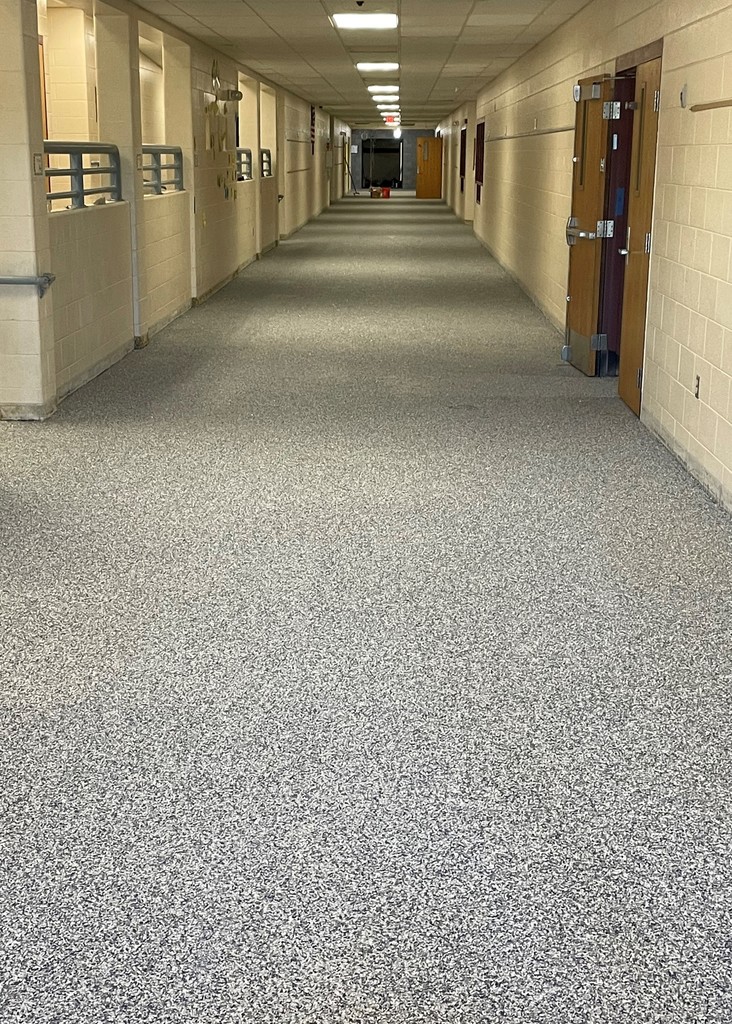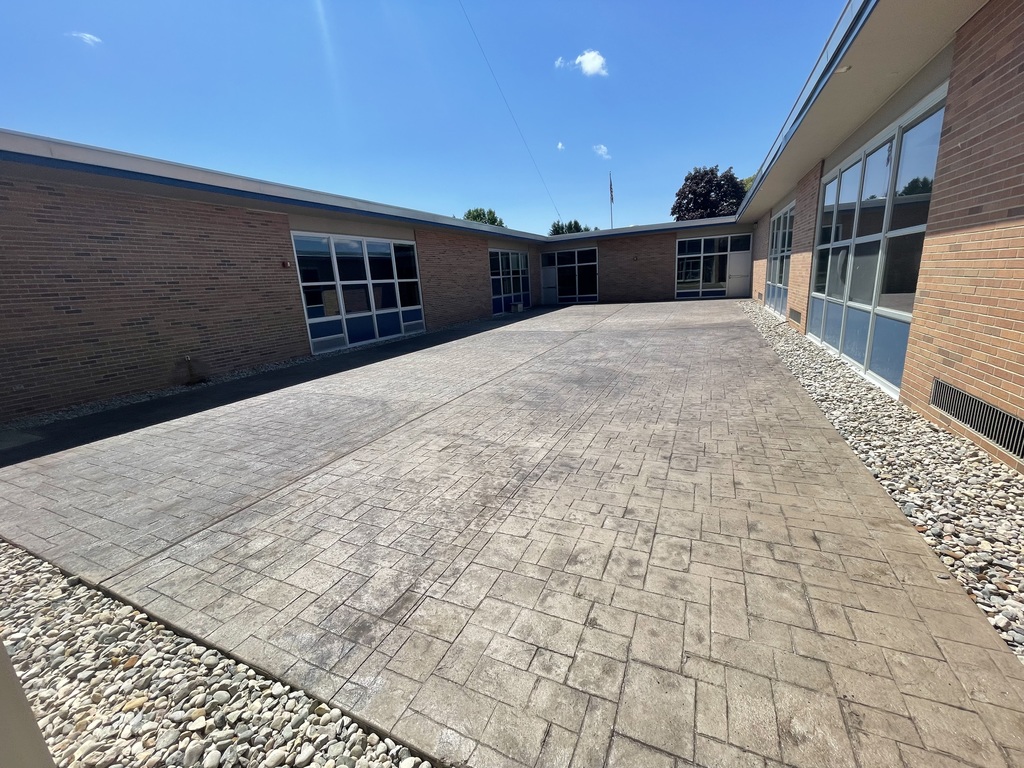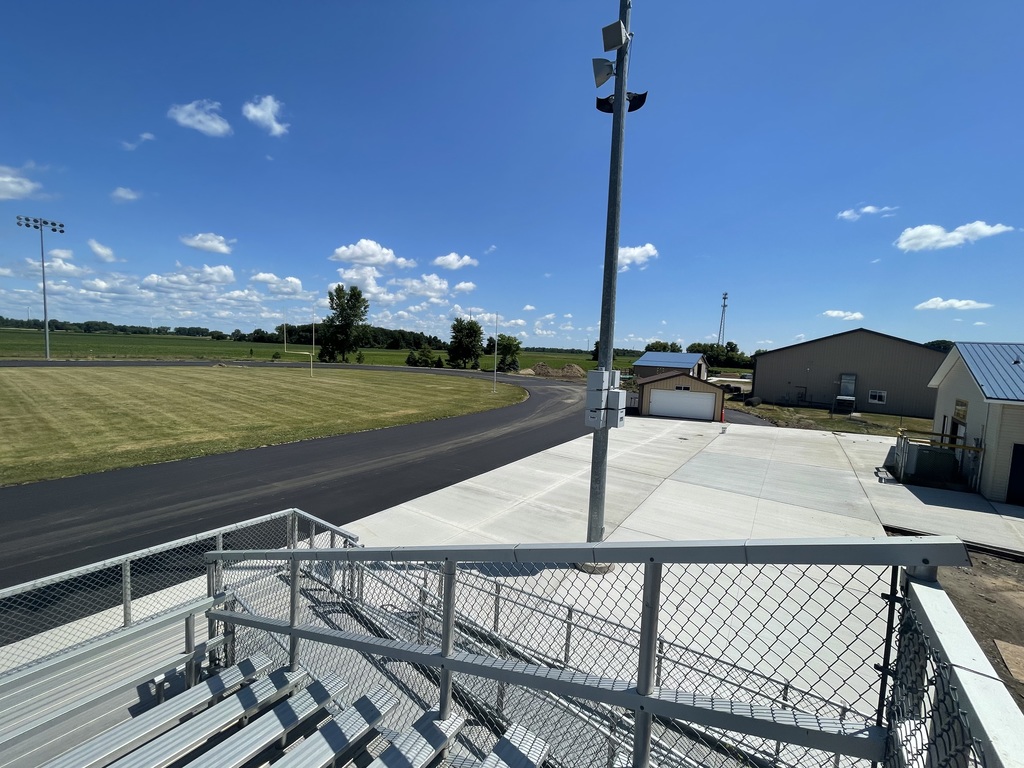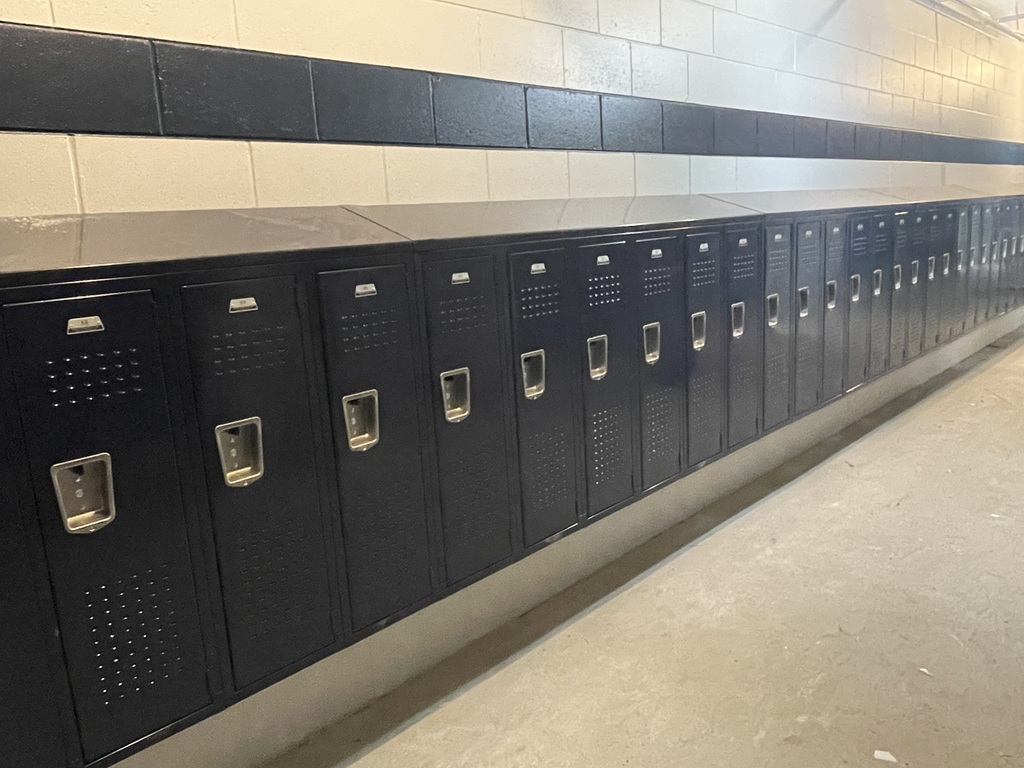 The Board of Education of Breckenridge Community Schools will hold their regular board meeting in the HS media center on Monday July 18, 2022 at 7:oopm. See additional details below!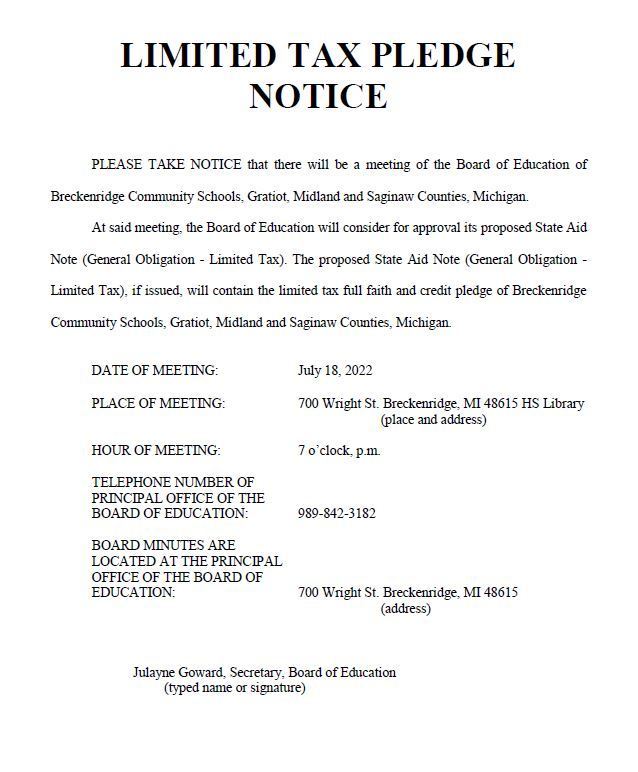 Breckenridge Community Schools has multiple open positions within the district! See details below.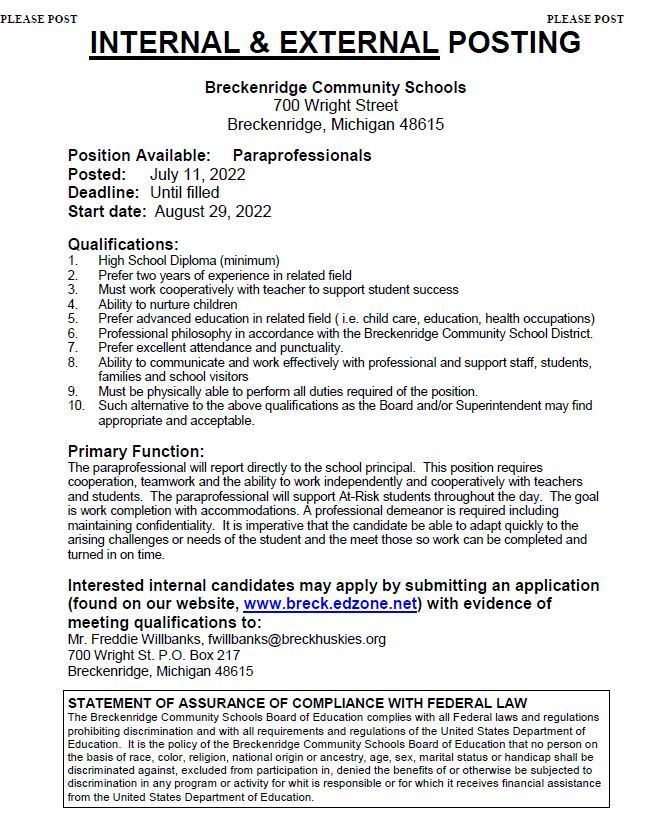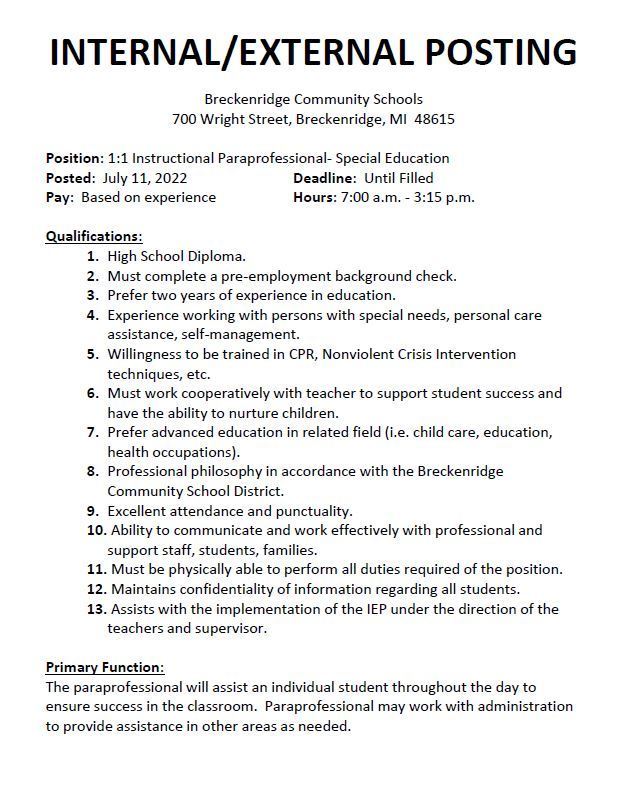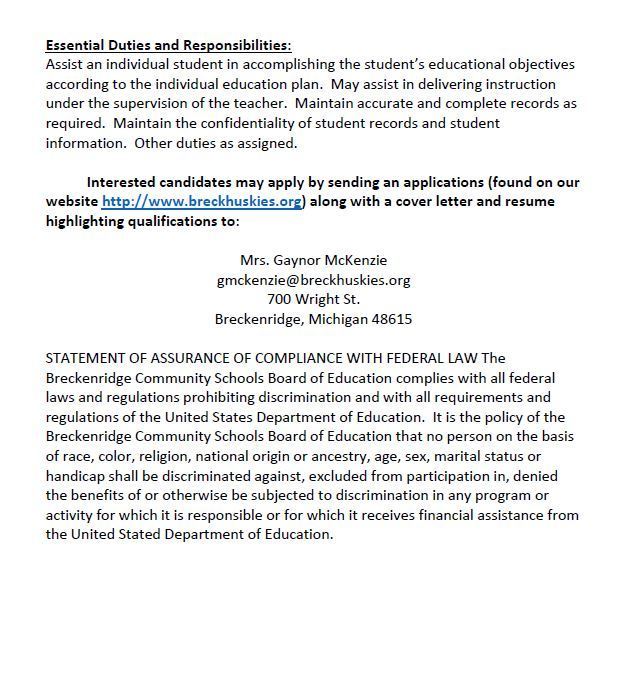 Breckenridge Community Schools has multiple open positions within the district! See details below.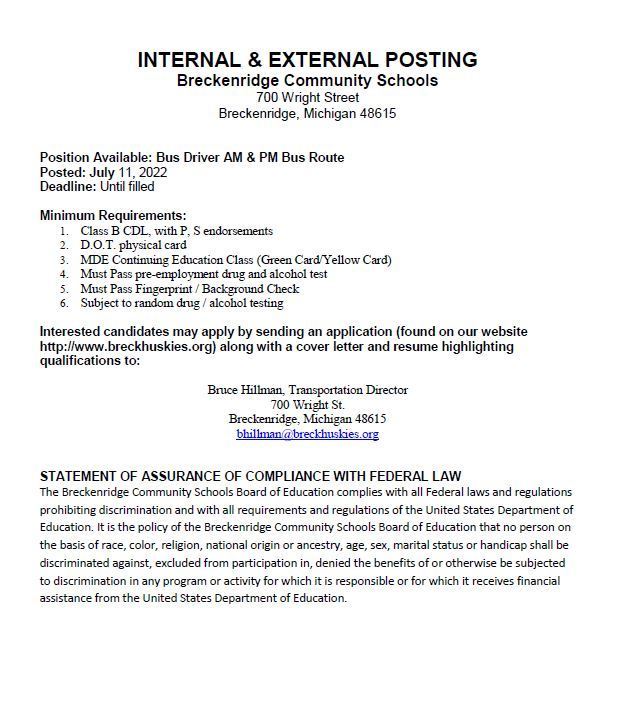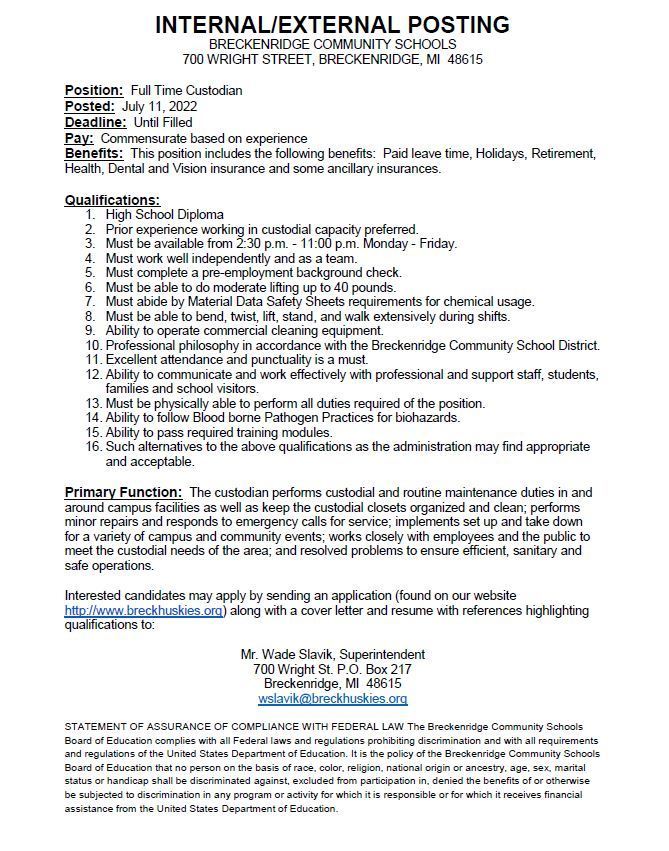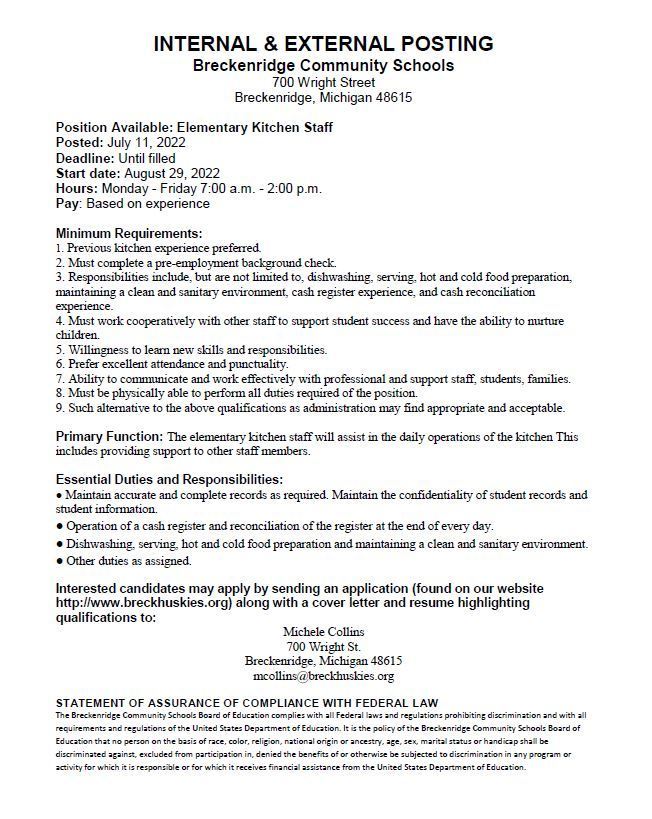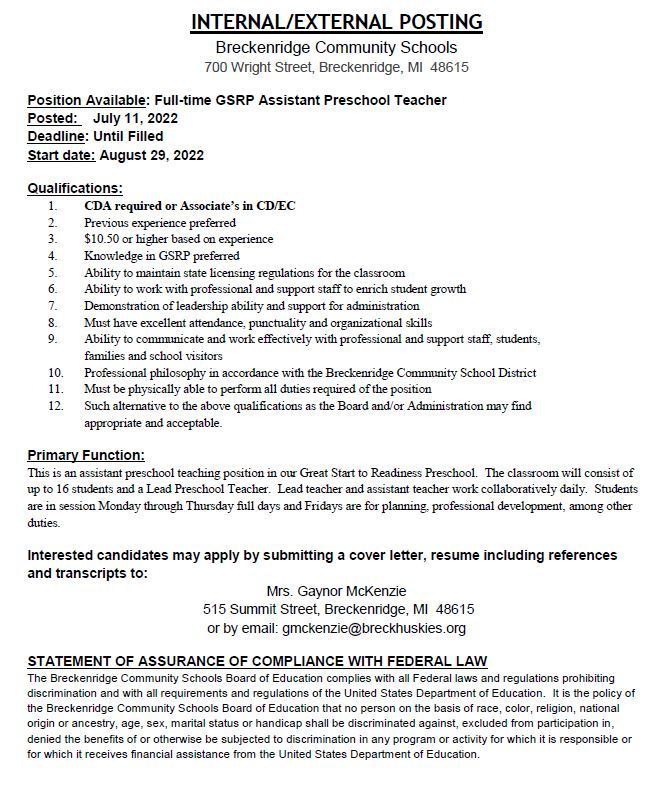 Julie Becker, Kayla Goward, Megan Goward, and Aimon Humm proudly represented BHS/MS in the Gratiot County 4-H State exchange club. Next year we will be hosting our new Texas friends here in Michigan. #HuskiePride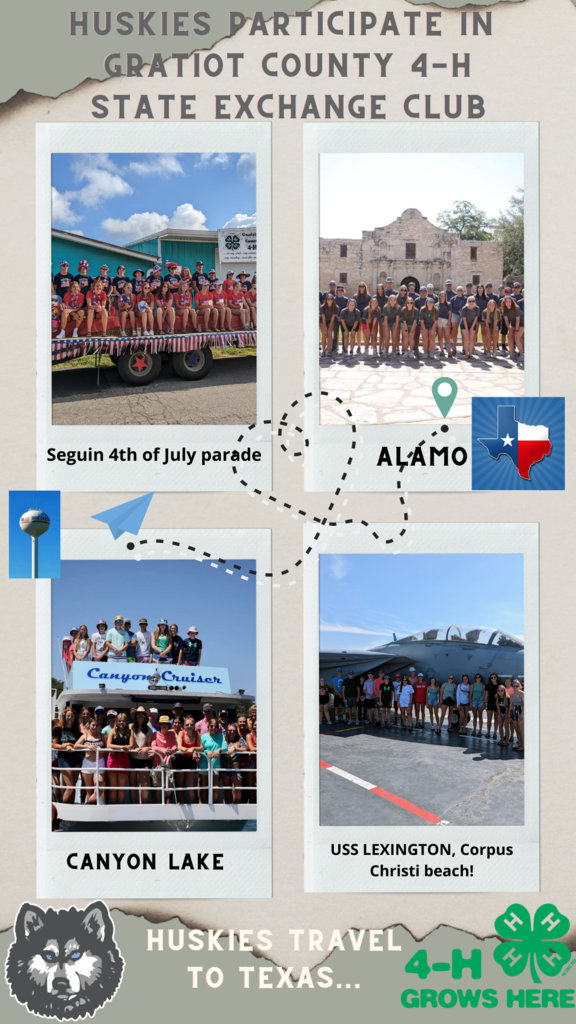 WLC is a conference that is designed with a focus on leadership. Our Huskies Calista Goward, Cramer Laurenz, and MaKenna Cutting attended various sessions in Washington D.C. Thank you to community members for helping sponsor Breckenridge students via the annual golf outing.


Have a safe and happy Independence Day weekend, Huskies!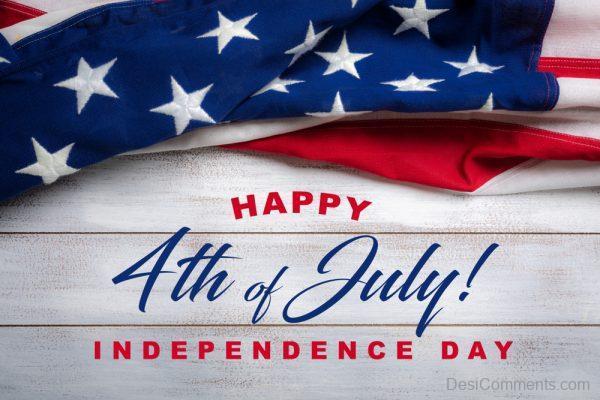 Summer Bond Work Update- This week concrete was poured across the district. The HS courtyards were poured and stamped. Demolition on BES and ballfield fences and dugouts have started, and HS hallway and cafeteria ceiling work look has progressed this week.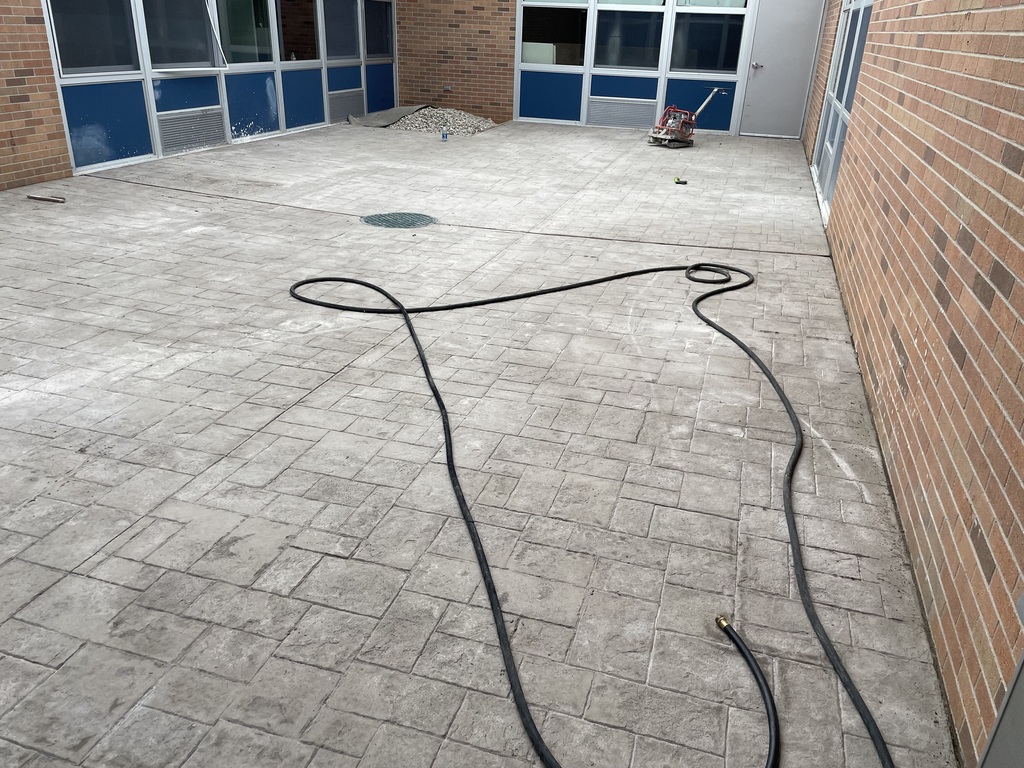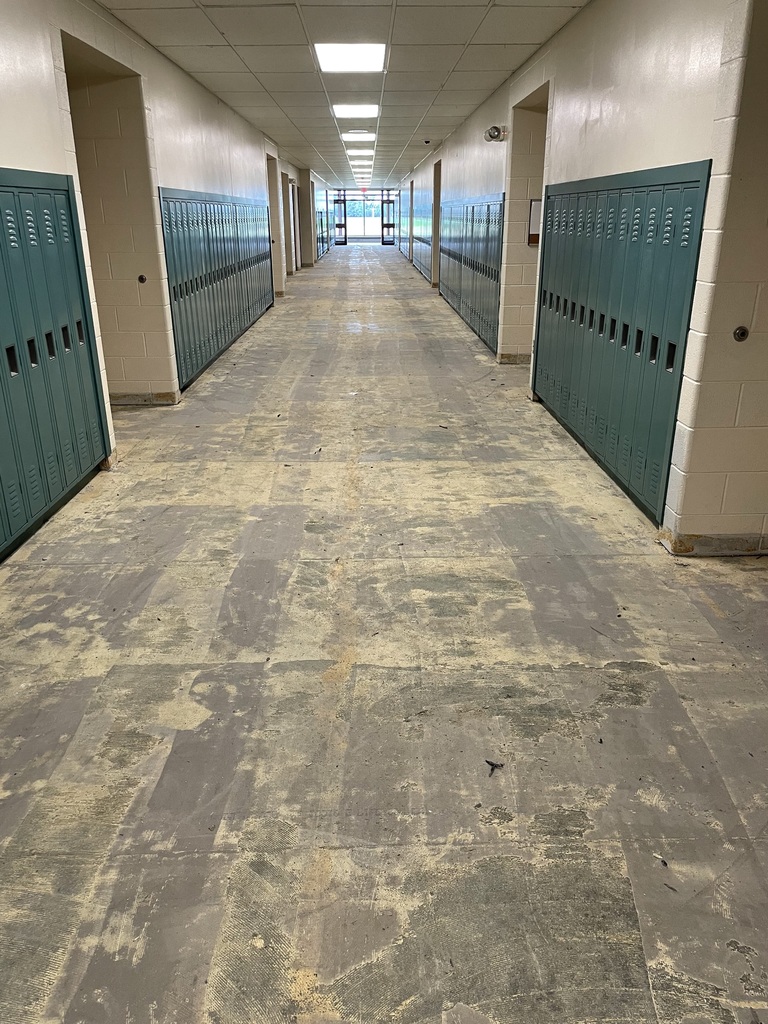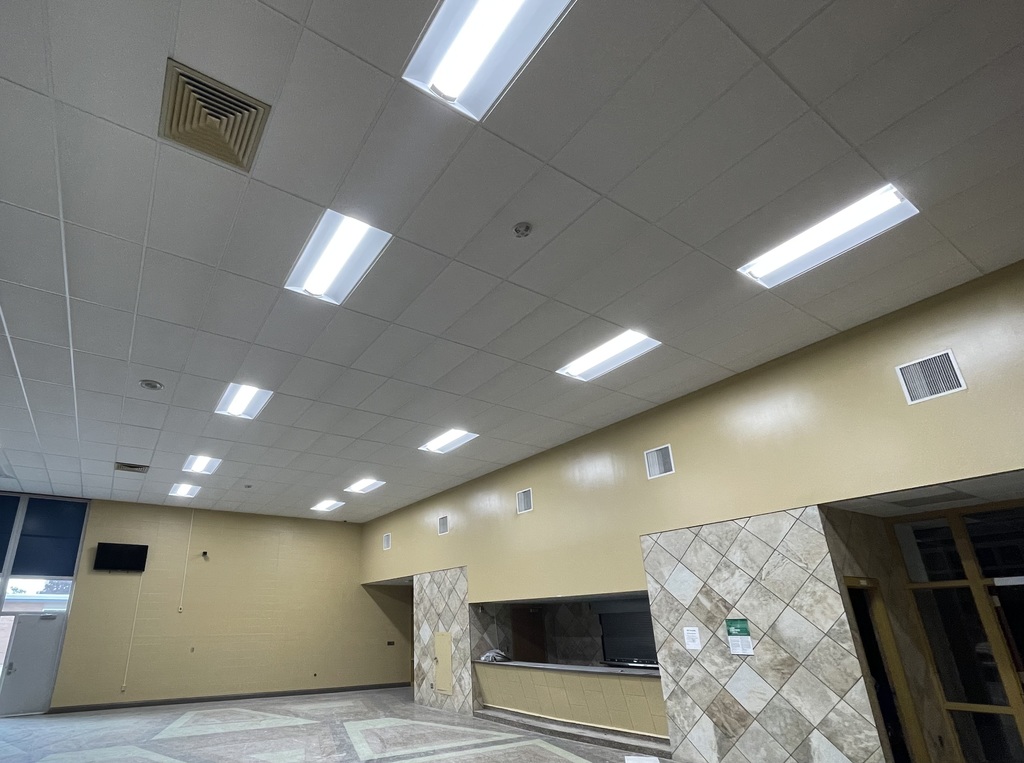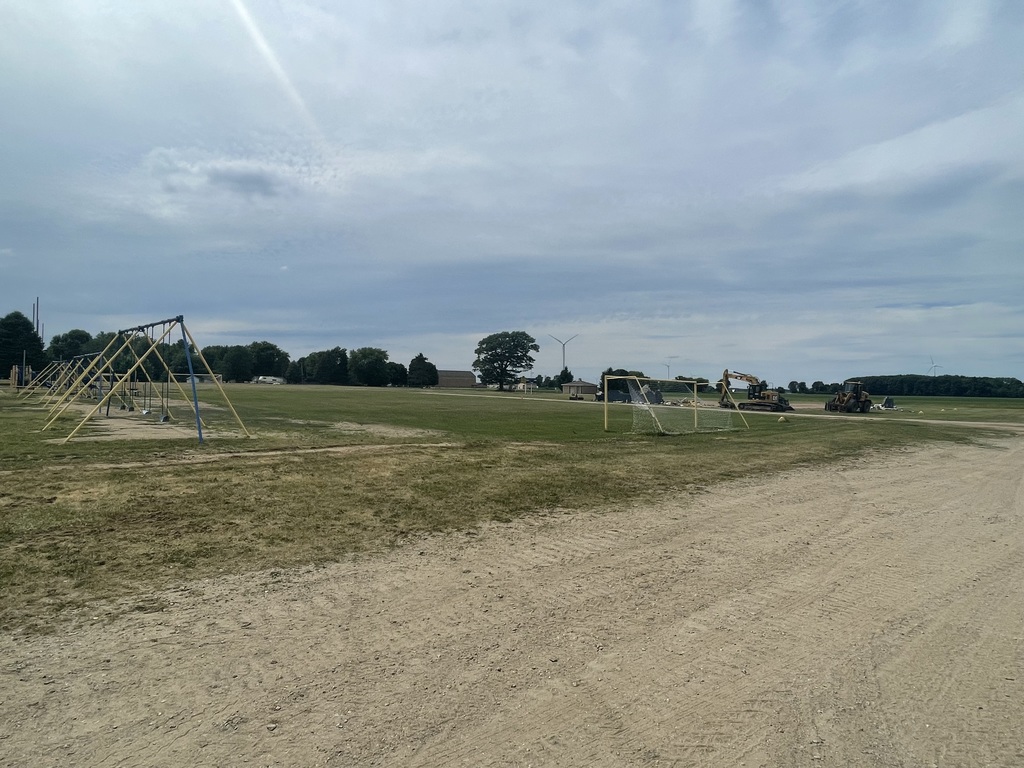 Summer Construction Update- Lots of work at the track/football field. Concrete, drainage, and prep for more concrete and asphalt. The cafeteria and hallways are seeing updated lighting and ceiling grid and the science classrooms are being prepared for new lab stations.